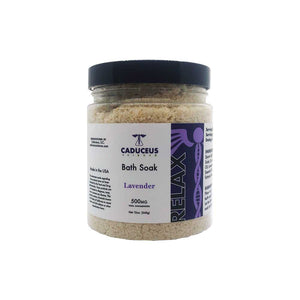 Bath Soaks are one of our newest additions to our Bath & Body Care line and we'll just say... it's a game changer!
Caduceus Science's Bath Soaks create a soothing bath atmosphere not only for the body but also for the mind. Our variety of top quality ingredients provide a euphoric bath that supports dry, under nourished skin by moisturizing and exfoliating the body while naturally derived essential oils create a relaxing aroma that fill the room.
Our Bath soaks are a great way to relax and melt those daily aches and pains away.
Ingredients:

Epsom Salt, Rolled Oats, Baking Soda, Corn Starch, Hemp Seed Oil, Lavender Essential Oil, Cannabinoid Extracts (Hemp Derived)
**The statements made regarding this product have not been evaluated by the Food and Drug administration. This product is not intended to diagnose, treat, cure or prevent any disease. This product contains chemicals known to the State of California to cause cancer and birth defects or other reproductive harm.