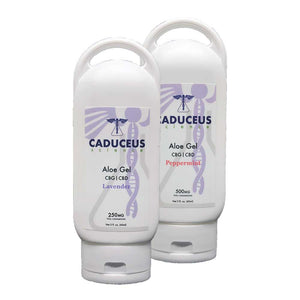 Aloe Gel is a 50/50, CBG & CBD, cooling aloe formulated for the outdoorsy, sun lovers of the world. Whether you've spent the day on a golf course or on a beach, our Aloe Gel is a sweet sigh of relief following that heavy sun exposure.**
The reparative benefits of aloe infused with our US sourced and lab tested hemp derived cannabinoids, provides a unique experience found nowhere else.**
Caduceus Science's Aloe Gel is a must have item for your active, outdoor, go-bag.
Ingredients:

Organic Aloe Leaf Juice, Carbomer, Organic Witch Hazel, Glycerin, Essential Oils (Lavender or Peppermint), Triethanolamine, Tetrasodium Glutamate Diacetate, Phenoxyethanol, Cannabinoid Extract (hemp derived)
**The statements made regarding this product have not been evaluated by the Food and Drug administration. This product is not intended to diagnose, treat, cure or prevent any disease. This product contains chemicals known to the State of California to cause cancer and birth defects or other reproductive harm.